The LTS Tower Module is the foundation from which all Large Tower Series models are based. Our towers are three-sided structures that rise to a height of 80 feet (24.38m) in 5 minutes or less. Each of the three sides consists of a chain made up of lattice sections hinged together and, in the stowed position, roll and stack in a square spiral-like pattern on one of three rotating bales.
As the tower rises, our patented design provides for each of the three mating sides to unroll and rotate into a vertical orientation. During this process, heavy stainless hooks located at each hinge automatically engage with hooks on the other two sides to form a rigid triangular tower column. When retracting the tower, the process is reversed.
The rigidity and stability of the towers are enhanced by a robust trailer, which has heavy-duty leveling jacks and wide outriggers for stabilizing the deployed tower. With no hydraulics or pneumatic components, the tower mechanism is nearly maintenance free and can operate in all normally specified environmental conditions.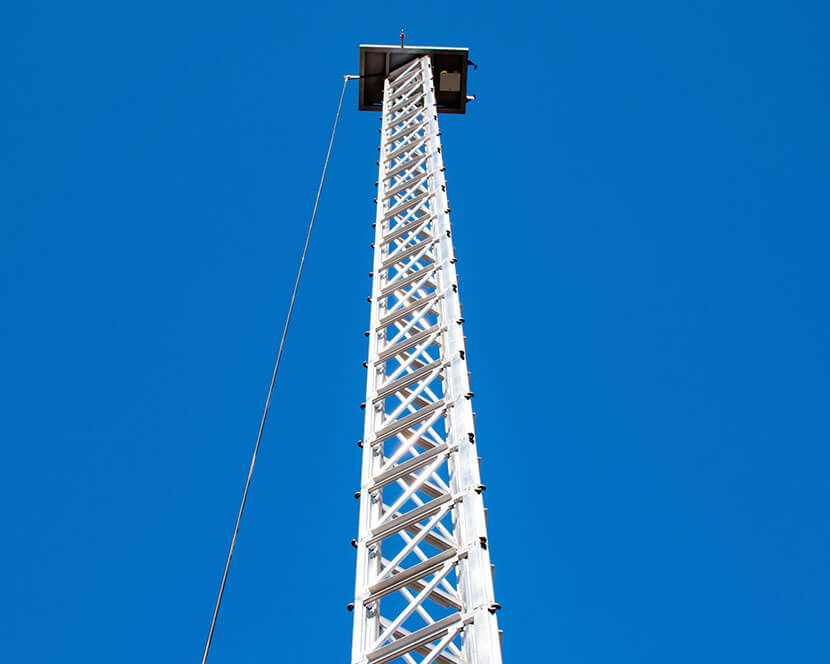 Get Started Today!
Want to know how to utilize an LTS for your own application?